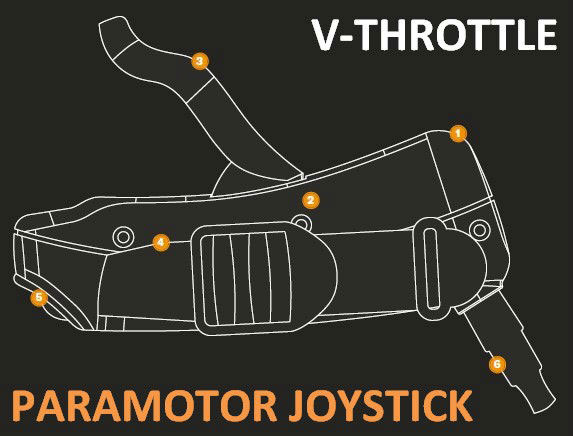 Available both for right or left hand
1 - SHELL
The joystick has an high quality finishing and is comfortable around your hand even for longer flights. Made of strong nylon for super strength, the components are very resistant to shocks, pressure, acids or oils.
2 - SPRING
The spring on the lever, improve the cable sliding in difficult situations (strong cable bending, obstruction by foreign bodies).
3 - HANDLE
The ergonomic shape of the handle allows a comfortable and natural position of the fingers. The cavity of the lever, facilitates the grip or the accelerator lock during the reverse launch.
4 - STRAP
Adjustable strap position (up-down) to tune perfectly the grip on the handle. Reverse function: can be easily switched by right hand, left-handed.
5 - PUSH BUTTON
Easy to reach but also protected, as to avoid accidental shutdowns. Button - IP67 waterproof standard.
6 - WHIP
Sheathed steel cable, core PTFE, guarantees excellent smoothness even in narrow bending. Crimped components ensure an high resistance of the whip, all sealed by grommets. Available size length: 115cms or 130cms.
OTHER FEATURES:
- Easy and quick to install;
- Durable and resistant;
- Safe;
- Maintenance free;
- Compact and simple;
- Made of high quality material;
- Easy and convenient;
- Salt-resistant parts also for beach use;
- Less stressful flights;
- Precise throttle control;
- Lightweight material;
- 100% made in Italy;
- Guaranteed for 3 years;