ANUBIS Integral Comm N2C5 Helmet
Integral helmet for air sports EN966 certified, with exclusive communication system N2C5 (Before NAC-2000C/AV) for FM radios: VHF 2 meter, UHF PMR446, LPD443 or FRS/GMRS.
Built-in N2C5 (Before NAC-2000C/AV) Communication system, suitable for use in PPG (paramotor), trike, ultralight or gyroplane. Aerodynamic integral helmet, specially designed for use in high-speed slalom and protect from the cold, thanks to its visor with safety lock which prevents accidental opening.
Keep communication on flight connecting your FM Radio with our Mini-XLR cables, interchangeable to connect different radios.
---
The ANUBIS Integral Helmet from NAC-Intercom
Taking into account the suggestions from highly experienced pilots, we have designed a light, comfortable helmet that complies with all the protection rules required for those who practise high-speed slalom. Its exclusive design with innovations like the ear protectors pressure adjustment, as well as a visor with safety lock preventing accidental opening, allows obtain maximum noise isolation. A unique helmet in the market.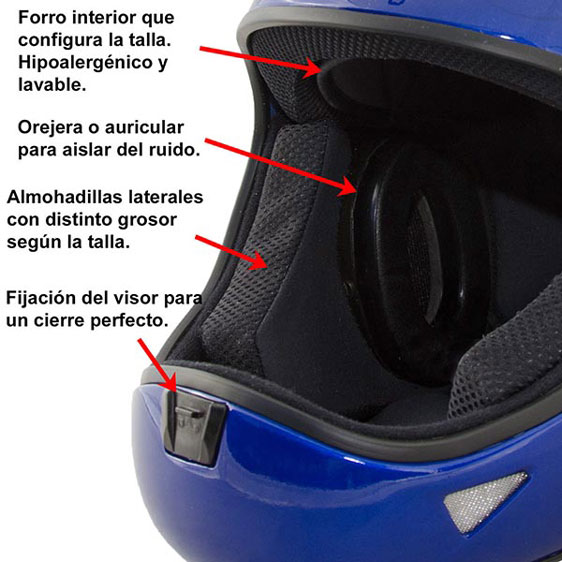 Manufactured in Italy, with ultra-resistant fiber, which makes it an extremely lightweight helmet but with the most demanding protection and sturdiness measures, complying with the Certification for aerial sports EN966, which guarantees maximum safety.
Its design is optimized to the smallest detail, paying special attention to its aerodynamic and the air flow that facilitates perspiration and prevents fogging when we fly with the visor closed. Its use with visor completes a perfect aerodynamic where neither the wind nor the cold will bother you.
Through the advice and suggestions of our customers, and our extensive experience in the world of paramotor and aviation, we have integrated in the helmet the practical and quality details that make the difference, as its size change system simply replacing the internal padding, or the new visor closure system: simple to open but secure at closing.
---
Click to Open + Close