Horus Helmet
---
White

Carbon Optic

Carbon Real

---
Air sports EN966 certified protection helmet for Paramotor/PPG, ULM, Trike or Ultralight.
After two years of development and with our experience of more than 14 years in the aviation sector, we are pleased to present the FINAL FLIGHT HELMET for ULM and PPG/Paramotor.
Horus was depicted as a hawk or a falcon-headed man. The eye of Horus was a symbol of magical properties, protecting, cleansing, healing, sun symbol that embodied the order, the perfect state...
The name which we named our helmet, intended to remind its aerodynamic shape with airflow and unique design for flight.
---
Helmet Features:
Made in Italy
Made in Italy, with ultra-strong fiber, making it an extremely lightweight helmet but very robust and with the most strict security measures.
EN966 certified
Air sports EN966 certified, to ensure maximum safety.
Optimized design
Diseño optimizado hasta el más mínimo detalle, prestando una especial atención a su aerodinámica, con tomas de aire en la parte superior y posterior, que facilitan la transpiración.
Airflow" System
Airflow System "air pipe", which allows perspiration and air exchange to maintain "fresh ideas".
Quick adjustment
Thinking about the comfort of the pilot, the chin strap closure allows quick adjustment for a suitable subjection.
Large visor
Ability to attach a large visor folding screen easy to install, with different models depending on usage (transparent or smoked).
Hypoallergenic padding
Hypoallergenic removable and interchangeable inner padding: to substitute another, adjust the size or just to wash it. Maximum hygiene and comfort, extending the life of the helmet.
One size
Change the helmet size simply replacing the adjustable internal padding, with pads of different thicknesses. Allows to have a small stock of helmets and set the size the customer needs at the last moment, simply including the appropriate lining. (XS-S-M-L-XL-XXL).
Headset attachment
No need to remove anything to install the headset. Simply remove the inner lining and pass the cable through the groove enabled secure with tape. Then screw the headphones and go!! less than 5 minutes!
Colors
Available in: White, Carbon Optic and Real Carbon Fiber for all the NAC-Intercom communication systems.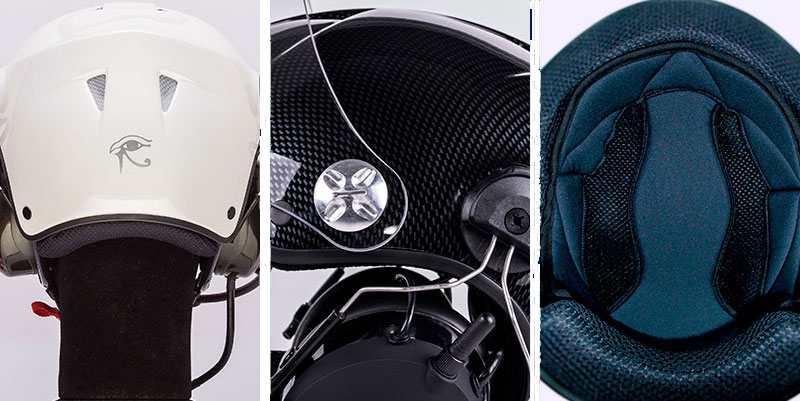 The interior of the helmet is composed of a hypoallergenic padding by Polygiene®, a technology that neutralizes odors by stopping the growth of bacteria and fungi. Sweat has no smell, but it helps create the perfect environment for the smell that bacteria cause when they multiply. Polygiene uses natural silver salt, a very effective antimicrobial agent, to inhibit the growth of odor causing bacteria and fungi. However, Polygiene does not affect the bacterial flora of the skin. And without the smell that bacteria cause, the freshness in the lining is maintained at all times. Guaranteed during the normal life of the product and verified through field tests by the main brands.